Welcome!
Welcome to Insight Parade Products! We have a wide variety of promotional products available for you to browse. If you have any questions please contact us and we will help in any way possible. Thank you!
Featured Item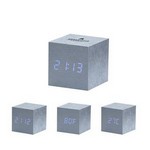 MoMA Alume Cube Clock
Designed by Natalie Sun, the Alume Cube Clock has a textured surface. Snap your fingers or tap the cube and the green LED display reveals the time, date and temperature and after a few seconds the dis...

Signature Showrooms